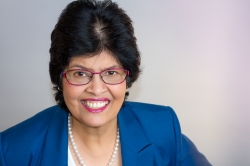 MBBS(Hons); MRCP (UK) Paediatrics; FRACGP
Certificate in Skin Cancer Medicine (University of Queensland)
Dr Mrin Nayagam is an award-winning family doctor with almost 25 years of experience. She is the practice principal at the Village Clinic in Mount Eliza, Victoria. Her practice received the prestigious Practice of the Year from Australian General Practice Accreditation Limited for the triennium 2008-2010.
Dr Nayagam is also a clinical teacher affiliate at Monash University, where she has earned consecutive awards from the Department of General Practice.
Born in Colombo, Sri Lanka, Dr Nayagam pursued her childhood ambition to become a doctor. This, along with the inspirational advice from her father ("tether your wagon to a star, child…") and cautionary advice from her mother ("…do noble things, not dream them all day long") were the driving forces that led her to study medicine, qualifying with honours and later succeeding at her postgraduate examinations.
She travelled to England with her husband in 1980 and completed the British postgraduate examination (MRCP UK Paediatrics). Along with their two sons, David and Romy, the family migrated to Australia in 1990.
Dr Nayagam has combined her global perspective from living in three continents with her experience treating multiple generations of patients in order to narrate 22 poignant, true stories capturing her patients' journeys. She wrote and published her book, Silver Linings: True stories of resilience from a General Practice, with the intention that all profits are diverted to the Silver Linings Charitable Trust (SLCT), which she founded to support financially disadvantaged people in her community.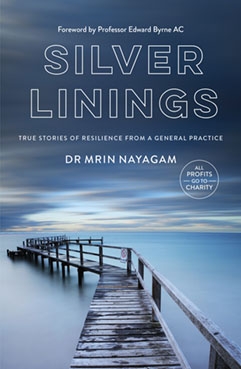 In Silver Linings, Dr Mrin Nayagam takes us on a journey with her patients from all walks of life, who overcome the odds in the face of serious medical conditions or traumatic events. Young Kate, diagnosed with cancer at only seven months old and now in full remission at nearly 10 years of age. Rob, an avid cyclist, bed-bound as a quadriplegic after a horrific accident, who now walks again. And Linda, weighing 115 kilograms and suicidal, finding the strength to lose weight and overcome depression. Experience the extraordinary healing journeys of these and other ordinary people and learn how they faced their conditions and life-changing events with enormous courage. Dr Mrin Nayagam is an award-winning general practitioner and a former board member of the Royal Australian College of General Practitioners (RACGP), Victorian Faculty, and the inaugural chair of the Women in General Practice Committee of Victoria. Dr Nayagam has drawn on her 25 years of experience as a general practitioner to pen these true to life, compelling stories.
Profits from sales of this book will go to the Silver Linings Charitable Trust which has a 0% administration fee
Recommended for non-medical as well as medical readers
22 true stories of resilience and hope that underpin the importance of the doctor/patient relationship
Championed by internationally renowned neurologist and academic Professor Edward Byrne AC, the former Vice-Chancellor of Monash University and now President and Principal of Kings College (University), London.
Book is reccomended for the Medical students at Monash University/Dept of General Practice/Family Medicine
For more information visit: www.silverliningscharitabletrust.com.au

Podcast Link: https://rppfm.com.au/2017/10/muriel-cooper-show-10-18-oct-2017/