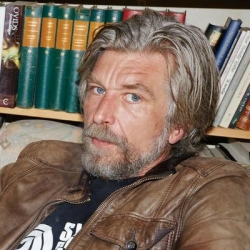 Karl Ove Knausgaard was born in Norway in 1968. His debut novel, Out of This World, won the Norwegian Critics Prize in 2004 and his novel A Time for Everything was a finalist for the Nordic Council Prize. For My Struggle: Book 1, Knausgaard received the Brage Award in 2009, the 2010 Book of the Year Prize in Morgenbladet, and the P2 Listeners' Prize. My Struggle: Book 1 was a New Yorker Book of the Year and My Struggle: Book 2 was listed among The Wall Street Journal's 2013 Books of the Year. My Struggle is a New York Times bestseller and has been translated into more than fifteen languages. Knausgaard lives in Sweden with his wife and four children.
The fifth installment in the eagerly awaited, internationally celebrated My Struggle series
The fifth book of Karl Ove Knausgaard's powerful My Struggle series is written with tremendous force and sincerity. As a nineteen-year-old, Karl Ove moves to Bergen and invests all of himself in his writing. But his efforts get the opposite effect?he wants it so much that he gets writer's block. At the same time, he sees his friends, one by one, publish their debuts. He suspects that he will never get anything published. My Struggle: Book 5 is also a book about strong new friendships and a shattering love affair. Then one day Karl Ove reaches two crucial points in his life: his father dies and, shortly thereafter, he completes his first novel.